Take Your Art to the Next Level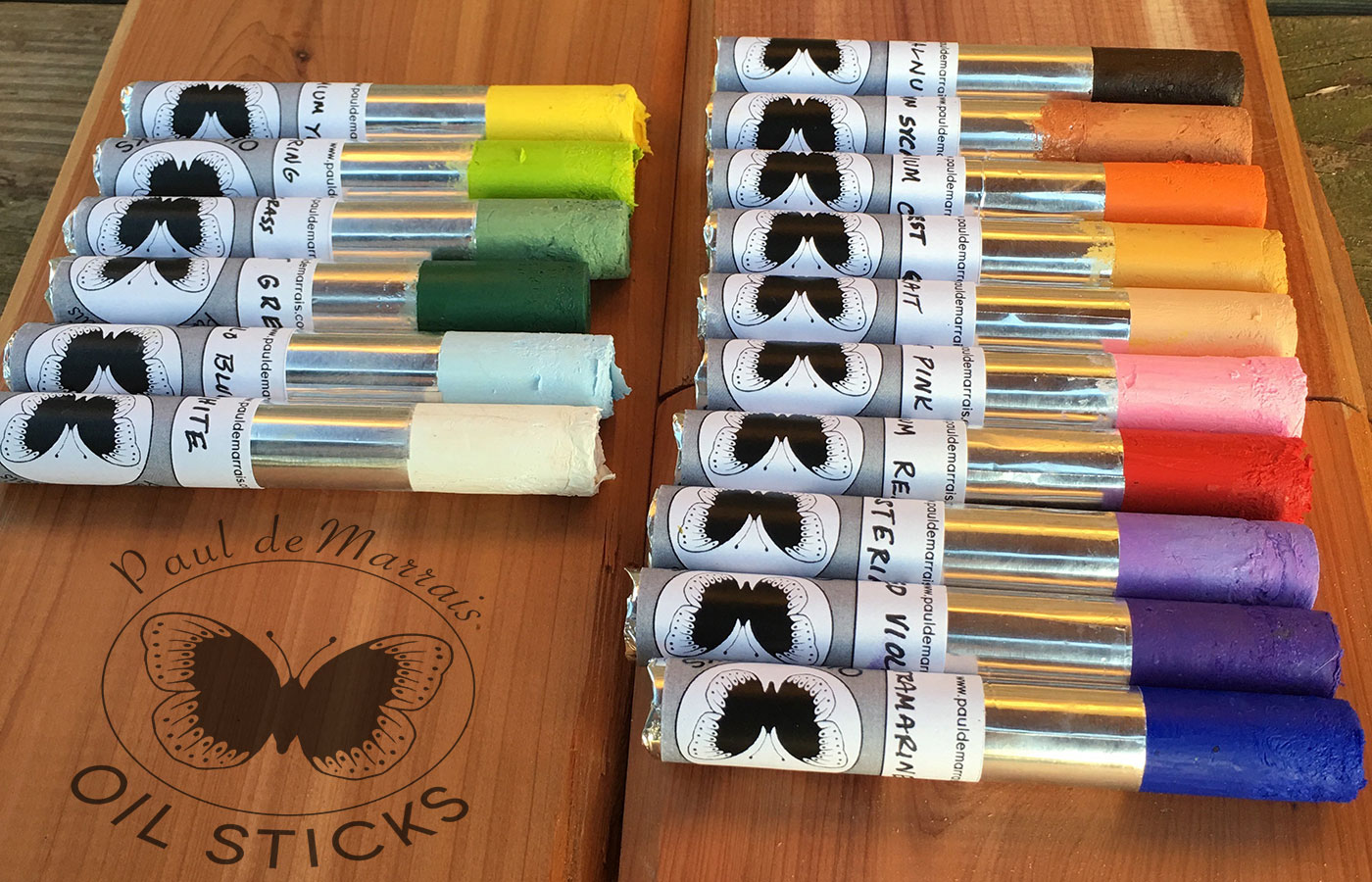 It has been over seven years since I made my first oil stick. Since then, they have gone through a long series of tweaks and adjustments as I sought to make them more functional and attractive as well. Just recently, with the help of graphic designer Angela Stasio, I came up with a label and a logo for each stick. We used my favorite butterfly as our logo. It's called a Diana Fritillary, a rare butterfly found only in mountain regions of Appalachia. I used a male butterfly as my model as the two genders of this dramatic butterfly are very different in appearance. The last few years have also been spent learning how to paint with these sticks. Lately it seems to be coming together for me as I have a better vision of what I want my paintings to look like. These oil sticks are very versatile and my artist customers use them in a variety of ways to create a diverse range of styles. It's been very exciting for me to see what fellow artists are coming up with! It has also been thrilling to connect with artists from all over the globe from Tennessee to Tasmania to Qatar and Australia! I can honestly say my oil sticks have traveled the world! I hope you will consider giving them a try!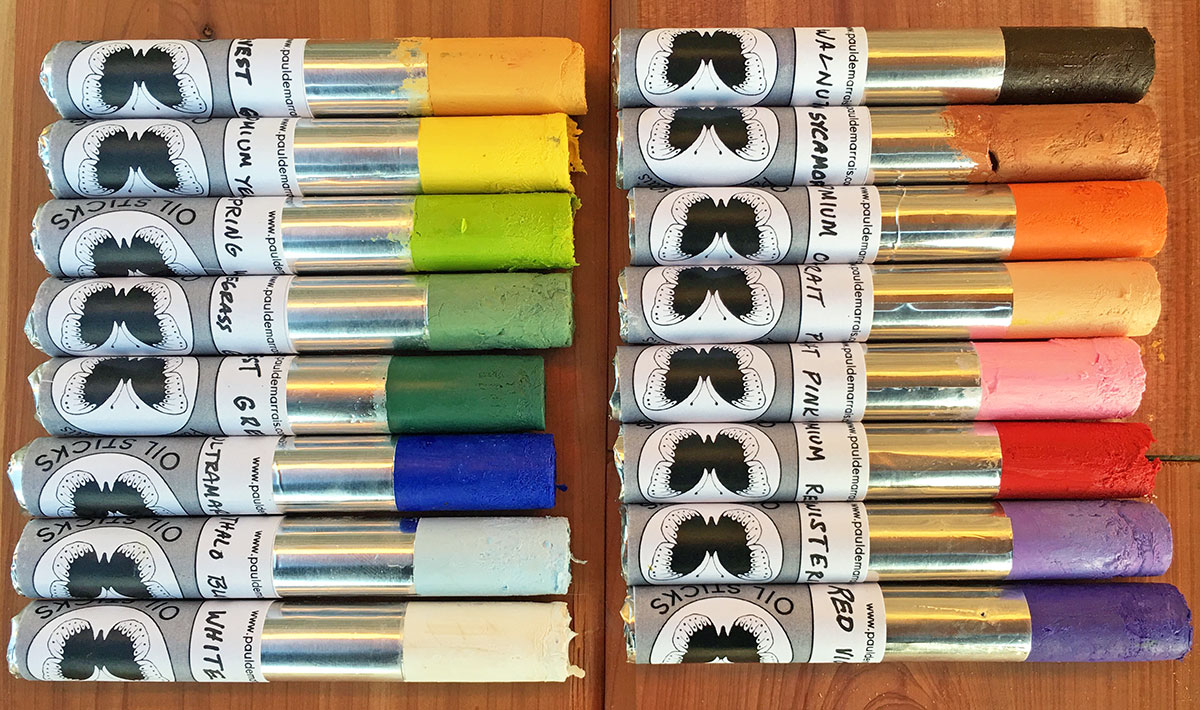 Getting Started Collection | $85
This collection of 16 Oil Sticks is a great way to start your journey. I've assembled this collection to help get you up and going quickly, and there are some super colors in this collection that will add new depth and life to your paintings. If you're new to Oil Sticks, this is a great place to start.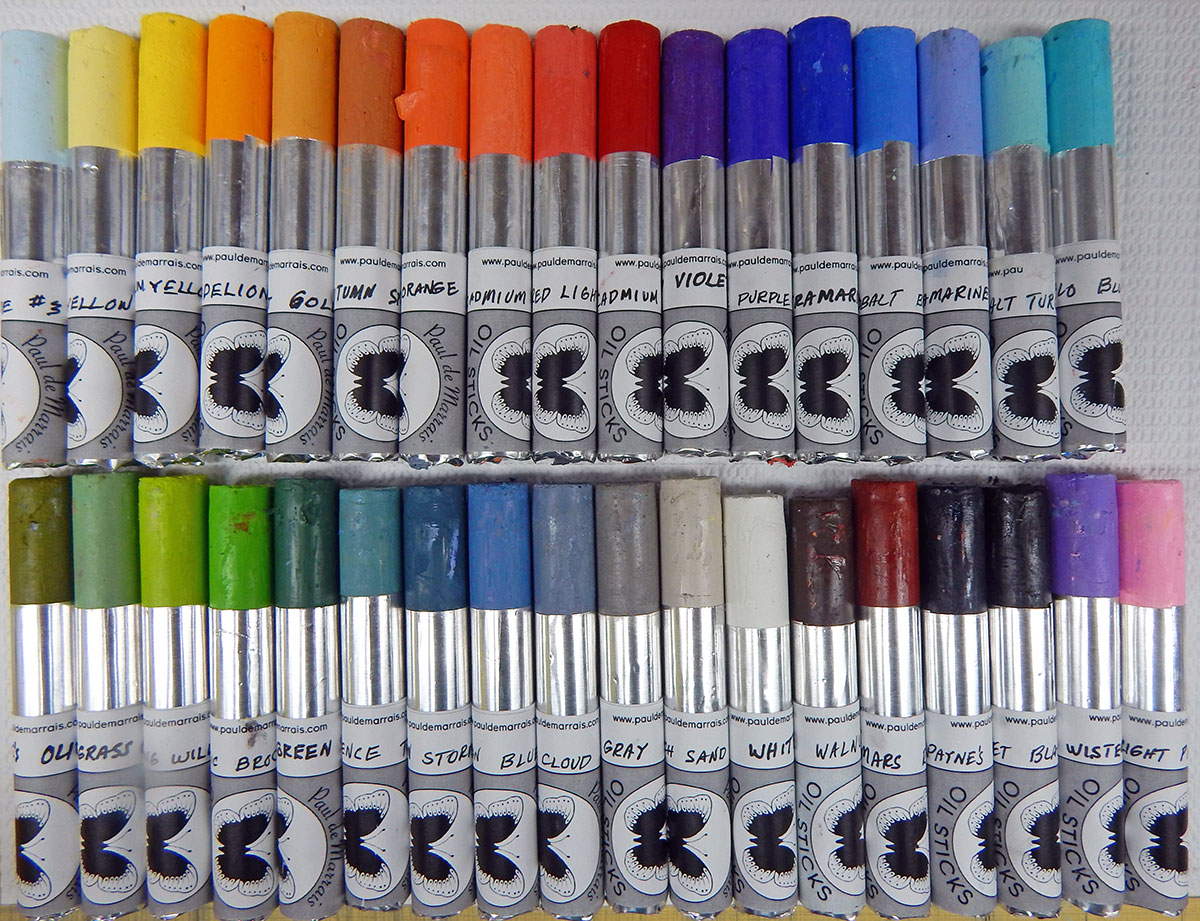 New Horizons Collection | $185
If you're ready to take the plunge into this incredible medium, my New Horizons Collection is made just for you. This set of 35 Oil Sticks in an array of color that can only be described as potent and luscious, is just waiting for you to jump in and start creating rich immersive paintings. This collection will give you a solid foundation of color to work with.
Custom Oil Stick Orders
Individual Oil Sticks are $6 each with a minimum of 5 sticks per order. All of my Oil Sticks are shipped in clear plastic tubes to keep them safe. They aren't messy at all (until you start having fun using them of course)! I do my best to keep sets in stock, but please Contact Me to make sure that I have what you need in stock. Since I manufacture my Oil Sticks, I can usually get your order together quickly, and this also gives me the flexibility to put together a custom order for you. For example, if you want to order a set to get started but want to add more of specific colors to your order, I'll be able to bundle it all together for you.
Ordering Info
As my longtime customers and workshop students know, I am always eager to help you in your artistic endeavors and I greatly enjoy the personal relationships I have developed with my students and customers over the years. Art is intensely personal, and everyone is different and therefore personal service has always been one of my trademarks. Contact Me and I'll be happy to get your order together and discuss shipping options with you. Once your order is ready, I'll send you a PayPal invoice for the full amount, including shipping. You can then make your payment with a credit or debit card, or with your PayPal account. All payments are processed securely by PayPal.
A Note About Color...
Due to the inconsistencies in color on various computer monitors and flat panel displays, the images you see of my Oil Sticks may appear slightly different than the actual product. While I make every effort to match color as closely as possible on my website, colors will vary from display to display and therefore should be evaluated as a representative likeness and not as an exact match to the actual product.
Paint On A Great Surface
I've been using multimedia artboard for a number of years. It's a great product, a tough, economical, archival surface that can handle any media including my oil sticks. I know you will love this surface! www.multimediaartboard.com
Share with your friends:
© Copyright 2007 - , by Paul deMarrais.
All Rights Reserved, Worldwide.