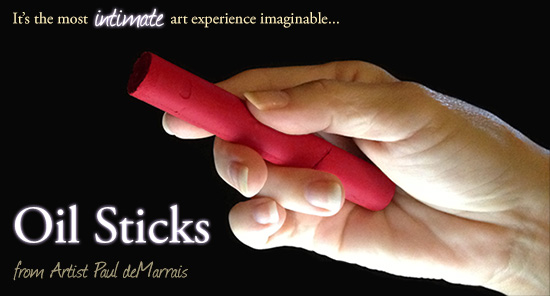 I'm so excited to introduce you to my newest product: my exclusive line of Oil Sticks. The richness of painting with oil, in an easy to use stick form. This is going to totally change the way you paint. I've been working for the past two years on developing and refining this product, and I just know you're going to love it as much as I do. To help you get started, I've got two great sets available.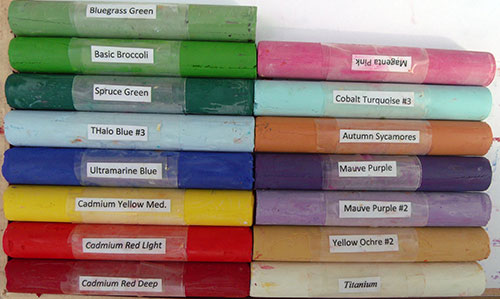 Getting Started Collection • $75
This collection of 15 Oil Sticks is a great way to start your journey. I've assembled this collection to help get you up and going quickly, and there are some super colors in this collection that will add new depth and life to your paintings. Click on the photo above to see a high resolution version of the colors in this set! If you're new to Oil Sticks, this is a great place to start.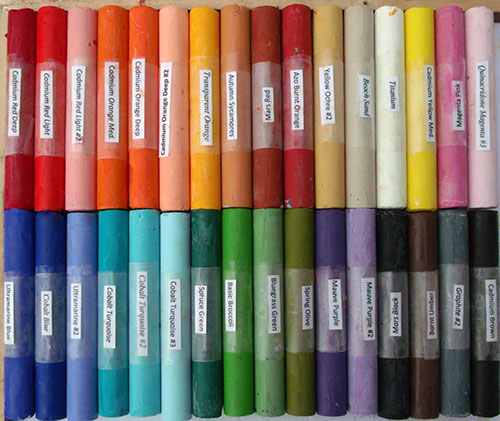 New Horizons Collection • $160
If you're ready to take the plunge into this incredible medium, my New Horizons Collection is made just for you. This set of 32 Oil Sticks in an array of color that can only be described as potent and luscious, is just waiting for you to jump in and start creating rich immersive paintings. Click on the photo above to see a high resolution version of the colors in this set! This collection will give you a solid foundation of color to work with.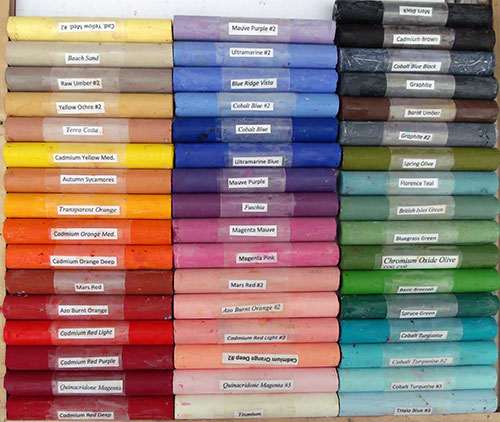 Signature Collection • $250
For those who - want it all - the Paul deMarrais Signature Collection was made just for you. All 50 of my latest colors - an incredible assortment of richness sure to take your paintings to the next level. Click on the photo above to see a high resolution version of the colors in this set! You won't believe how fun these are to use! With this collection you'll have the entire spectrum of color at your fingertips.
Handmade Pure Pigment Pastels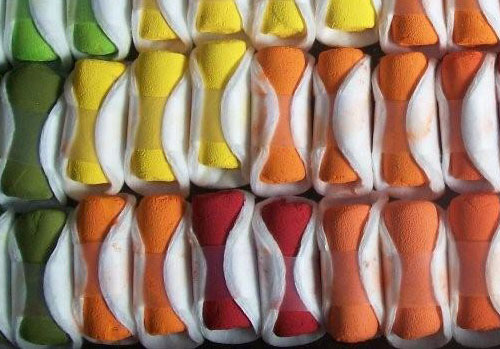 Handmade Pastels • $4 each
Try out a truly handmade pastel! I make pastels that I like to use myself. My pastels are large, soft and loaded with permanent pigments. Having a vivid and exciting palette is important in pastel painting and can add style and distinction to your paintings. I roll each pastel myself so my pastels are made in small limited quantities. I've made pastels for many years and know the qualities of a great pastel. I know you will enjoy using them! All sticks are $4.00 each. Contact me for information on assortments and availability. And be sure to check out my blog for some exciting studies on combining pastel with oil sticks!
Artist Dream Permanent Oil Crayons
I've been making oil sticks for several years, and during that time I've learned a lot about wax-based media. I've altered my oil stick formula a bit to make sticks that are more crayon like, but have many added advantages. These crayons are harder than oil sticks and can withstand a good deal of pressure so they're great for drawing. And unlike many crayons available today, my Artist Dream Crayons contain only permanent artist quality pigments. The pigment quantity is much higher as well, making these true artist quality crayons. My goal is to produce crayons that professional artists can feel comfortable using and that art students of all ages can enjoy as well. That's MY 'artist's dream!'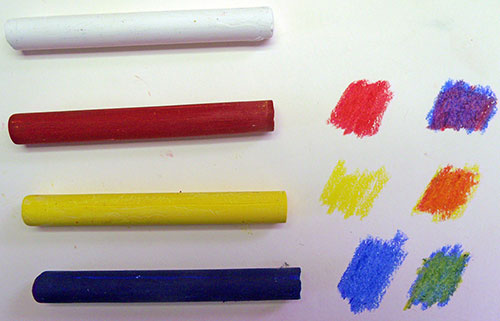 Primary 4 Color Set • $8
I've made a bright primary set that will allow for creative color mixing and bright clean colors. Some young artists are giving them a try and they are great for coloring as well as drawing. With heat from a hair drier on your surface, you can make these sticks act more like paint. I feel special empathy for art teachers and will offer them a special price if they want to get multiple sets for the classroom. Artist Dream Permanent Oil Crayons are also totally compatible with my regular oil sticks!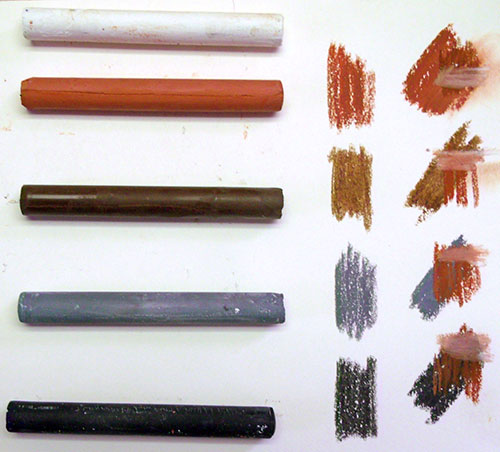 Classic 5 Color Set • $10
This set is for serious drawing. I've made a classic set of four tones and white that will allow for layering of colors and also straight drawing. Like the Primary 4 Color set, they are hard and capable of withstanding a good deal of pressure from the artist's hand. This set is perfect for figure drawing. As an added bonus, these crayons will dry completely and can be varnished. You can draw on canvas and display your work just like a traditional oil painting! I use them to add details to my oil stick paintings as they are totally compatible! Special price also available for art teachers needing multiple sets.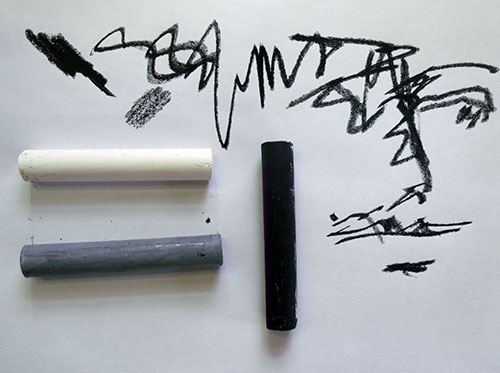 Brooklyn Bold 3 Color Set • $15
(Individual Colors • $6 Per Stick)
Some artists like to cut loose and make large expressive drawings. These Brooklyn Bold Permanent Oil Crayons are made for you. These large sticks are made to withstand a good amount of pressure, yet are capable of subtle shadings as well. My super black crayon is very dark and rich and makes a wonderful graphic statement. The gray and white sticks are equally opaque and loaded with permanent artist pigment. Like my other Permanent Oil Crayons, these will dry and can be varnished later on. Sticks are 5/8 inches in diameter and three and a half inches long and are very comfortable to work with.
Paintings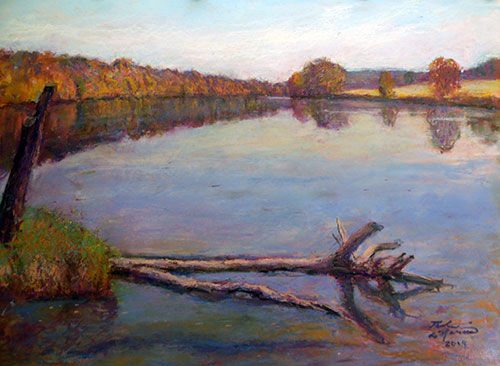 Calm Before Winter • $800
Click Here to watch a video of me painting this painting.
This oil stick painting is done from a favorite spot of mine, a park along the Holston River in Surgoinsville, Tennessee. Everyone seems to love the blazing colors at the peak of autumn, but my favorite time is later in the season. Along the river, you commonly will see less colorful trees like Sycamore and Box Elder with their more subtle tones of rust, browns and gold. As fall nears its conclusion, there is a quiet period before the cold moves in. I'll see calm partly cloudy days like this one with barely a ripple showing in the water. THese are the golden days for painting reflections and I try to take full advantage of them. I've painted this park many times. Each day is different with moods determined by the sun, sky and water. Just being in such a place raises my spirits as well!
Please Contact Me if you are interested in buying this painting to confirm it is still available!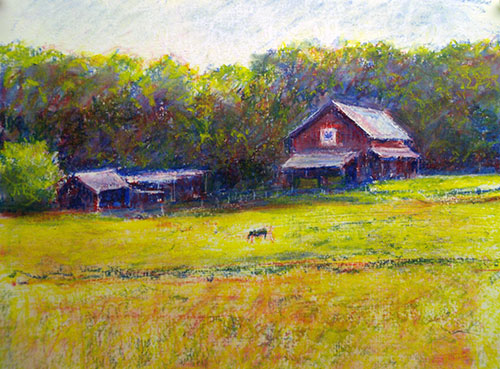 Evening, Newland Farm • $250
11 x 14 - Artist Dream Permanent Oil Crayon Painting
This farm is about a mile from my home and I am sure to pass it every day. It's been in the Newland family for over a century. In the spring this field is carpeted with buttercups. In summer it turns from yellow green to a golden tone that lights up in the evening. This rim lighting effect is the subject of this painting done with my primary set of Artist Dream Permanent Oil Crayons.
Please Contact Me if you are interested in buying this painting to confirm it is still available!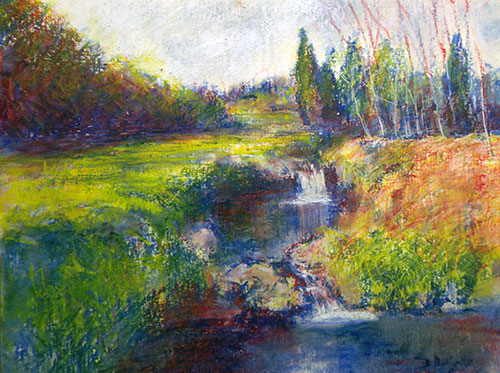 Dream Stream • $250
11 x 14 - Artist Dream Permanent Oil Crayon Painting
I visit this spot every day and it is more and more ingrained into my memory. The sound of the water is very soothing. A huge storm enlarged the pools beneath the little falls last year and made the place even more beautiful as a painting subject. I've painted it many times but am certain to paint it many more. It's a special place for me.
Please Contact Me if you are interested in buying this painting to confirm it is still available!