Behind the Easel: Road to Mendota
Step 1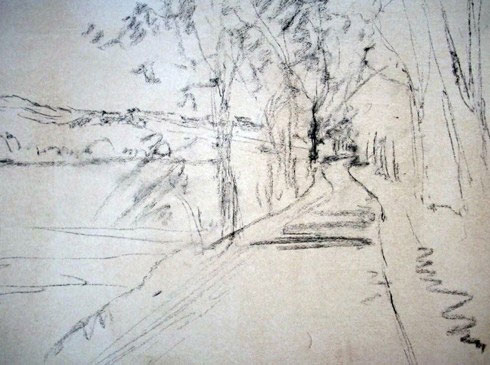 With vine charcoal, I map in my design paying careful attention to my horizon and placement of the road and trees. This step instantly tells me if this subject will work well as a painting. I feel confident it will.
Step 2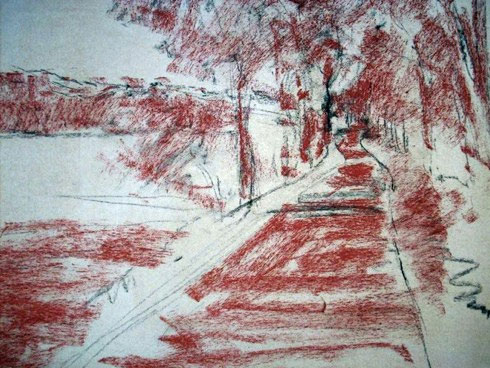 With a warm orange red pastel, I block in some color for liquefying. This is a new under painting color for me so it will be interesting to see how it works!
Step 3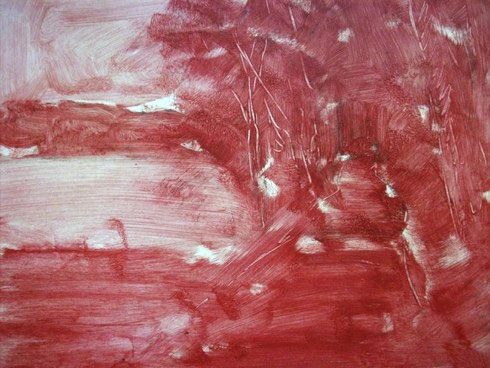 With a folded square of one inch foam, I liquefy the pastel with acrylic matte medium. To help locate the trees, I took the eraser end of a pencil and drew lines into the wet medium. It's fun to experiment so feel free!
Step 4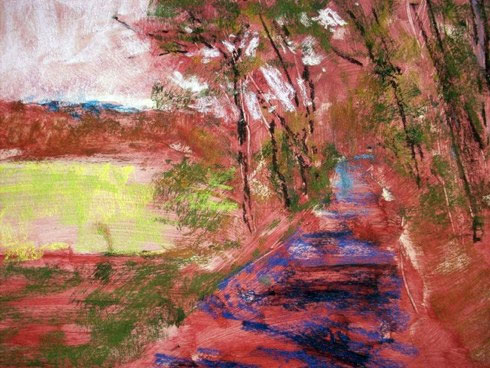 I begin to work pastel into the wet medium, working dark to light. I locate some 'sky holes' in the trees which will be a challenge later on. I draw in some branches here and there.
Step 5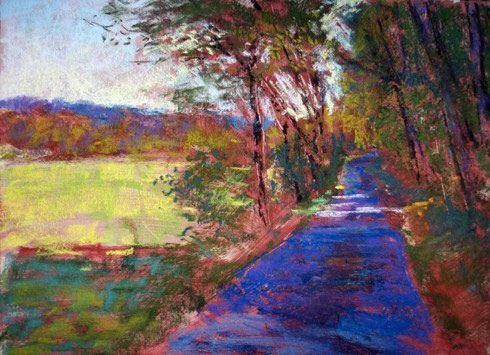 Refining continues as I bring in bright colors in both warm and cool tones. With a red underpainting, I have a lot of color going on! My goal is to push the color by ramping up both warm and cool colors. The olives and ochres in the field serve as my more muted 'neutral' colors. To make color bright, you need good neutral colors as well as bright color! Note the three different tones in the sky. Skies need to be of interest and not just "blue." I like to add lavenders, pinks and blues of varying color temperatures to make a glowing sky.
Final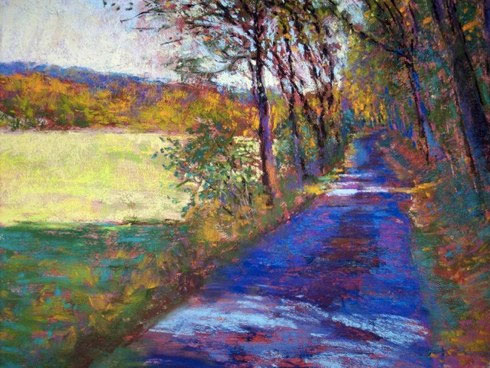 I work harder on the 'sky holes' and the lovely blues in the shadows in the road and a few finishing details. The red underpainting gives the painting a nice glow of warmth. I have increased the effect by the powerful pinks and blues and turquoise in the painting. 'The Road to Mendota'